Tons of Elements to Combine
950 VECTOR Elements + 132 Editable Premade Logos + 110 Textures = 1192 Total Items! If you were to combine all the Circles + Text Combinations you'd get 64,800 logos. But the bundle includes even more elements than that (ribbons, badges, premade logos, various textures and bonus contents!)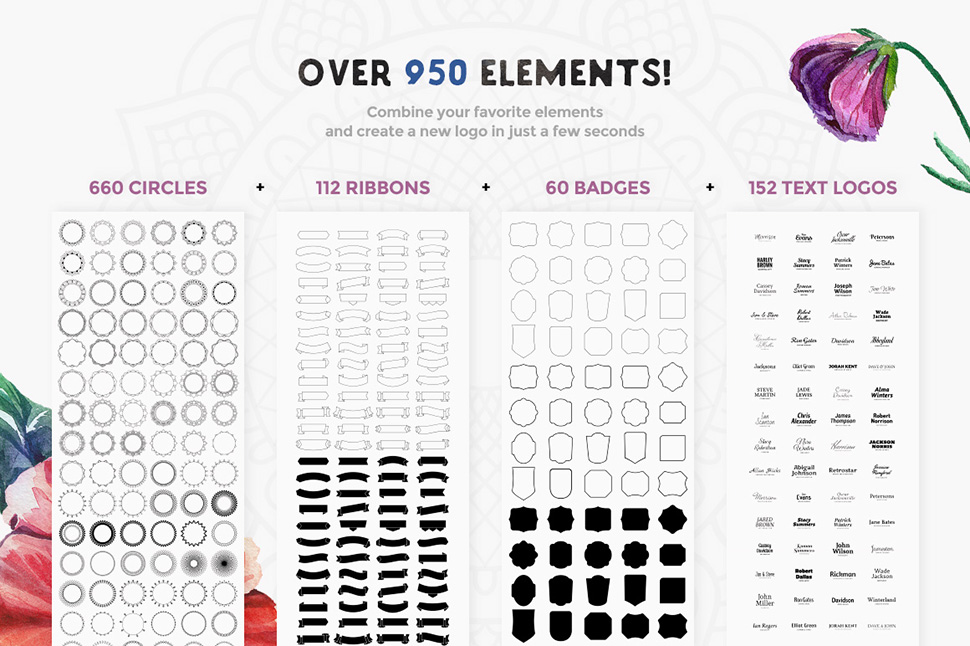 6 Free Mockups Included
We also included 6 of our free mockups in this pack as a quick way to showcase your brand. As you can see in the examples below these mockups work very well with the logos that can be created using the logo creator. If you want you can download these mockups separately for free by accessing our freebies section on the website.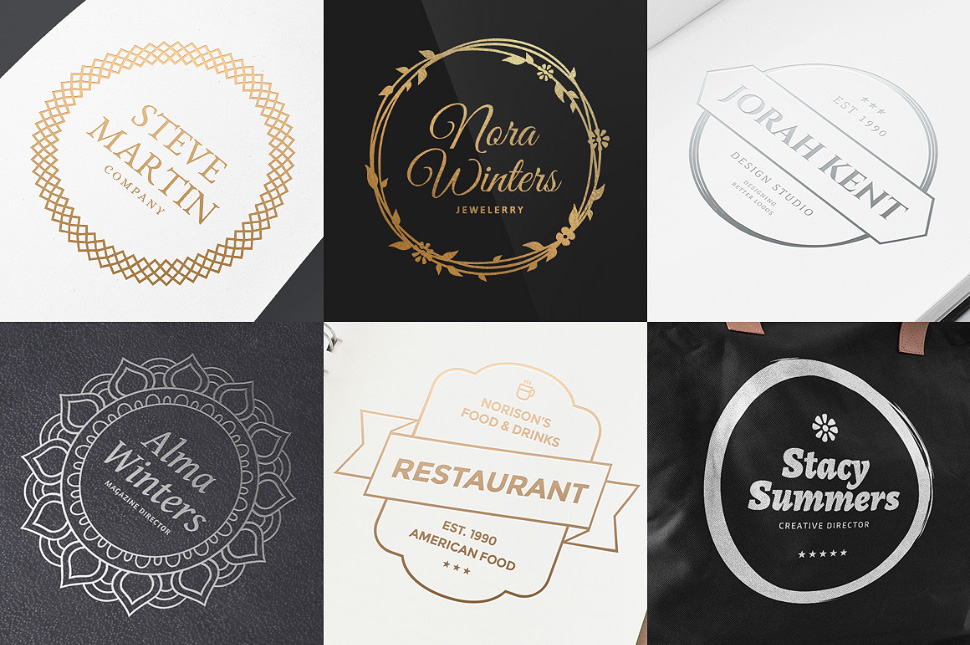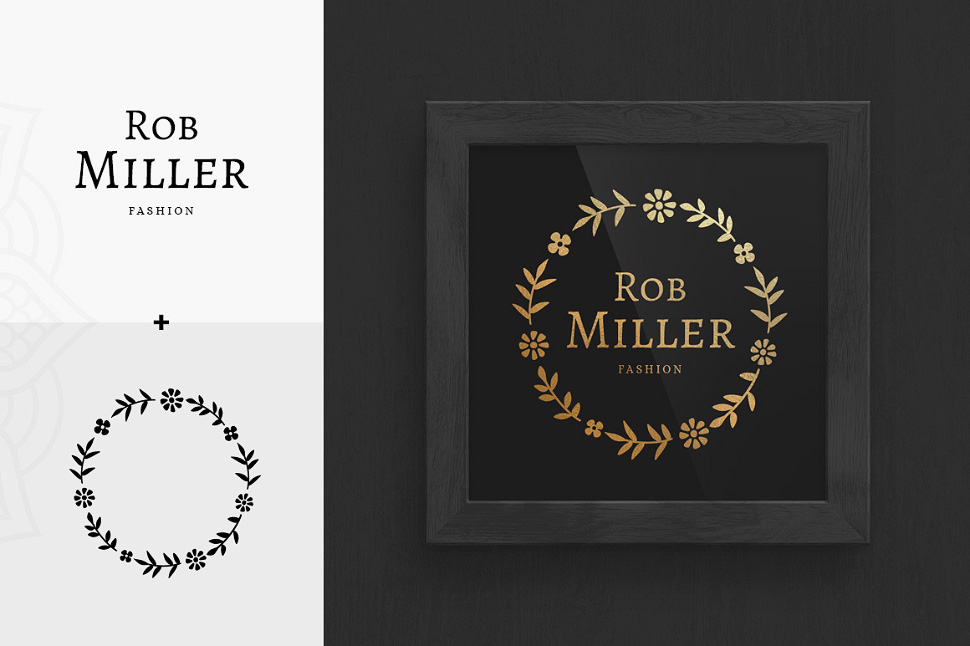 Premade Logos
For your convenience we included a collection of no less than 100 premade logos. The text uses free fonts (you'll find the download links inside the pack) and it can be easily edited to display your name or brand in either Photoshop or Illustrator (PSD & AI files). The Logos are vectors so you can resize them as much as you like.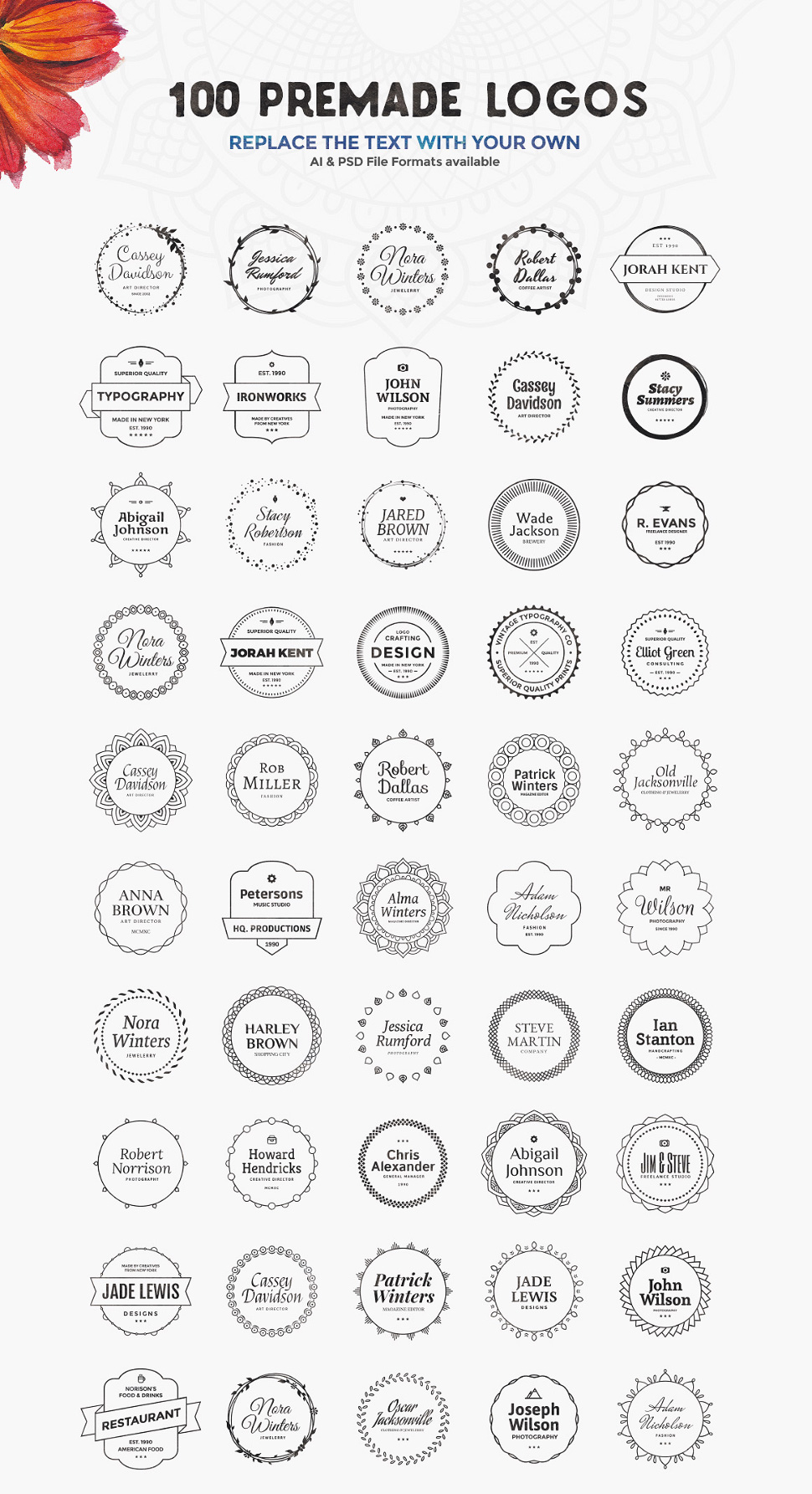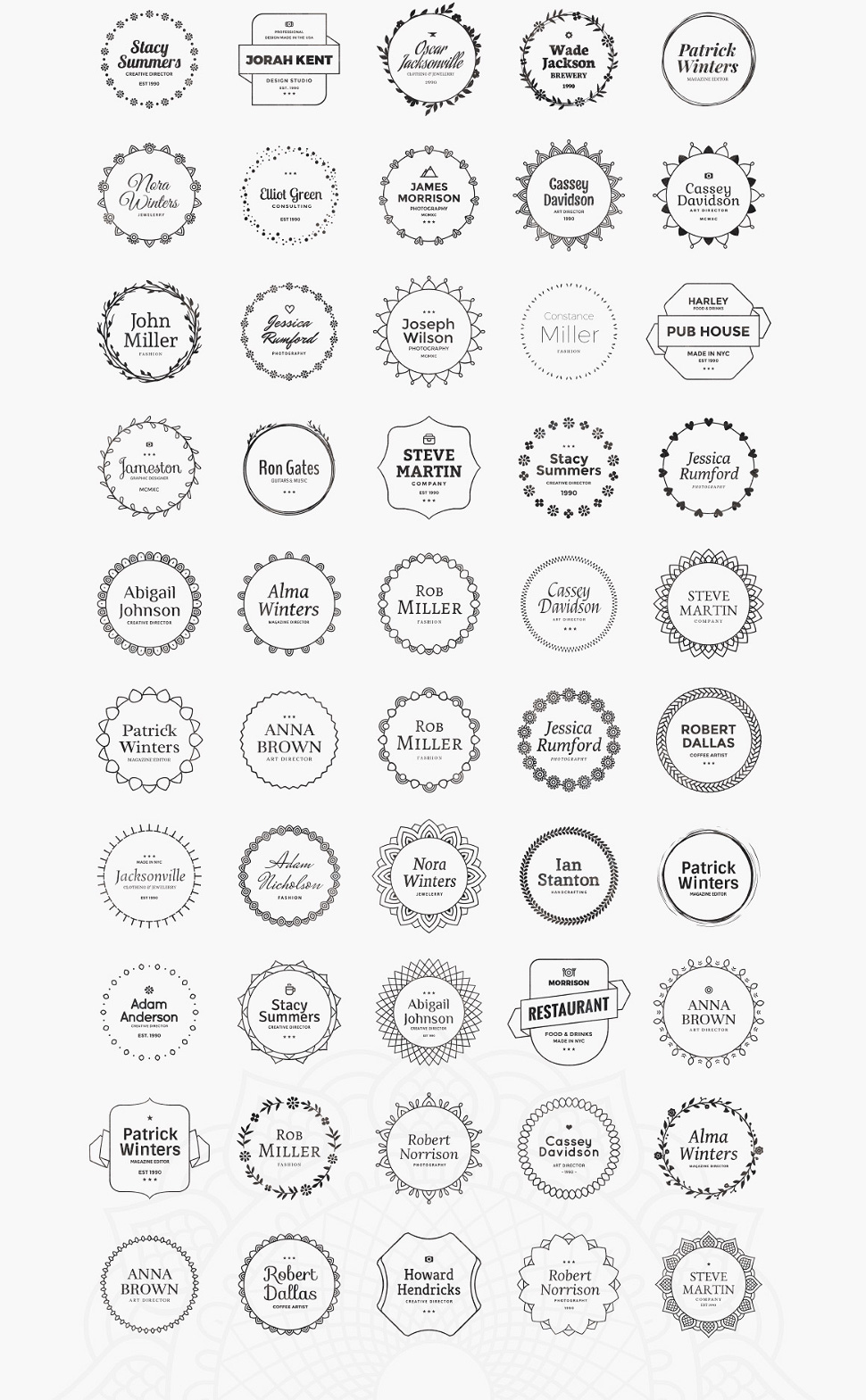 540 CIRCLES
Here begins the core part of our bundle. The first part contains a number of 540 VECTOR circles available in both AI and PSD formats. You can resize these as much as you want without seeing any quality loss so they are great for any kind of project, whether you plan to create something for your website or for print.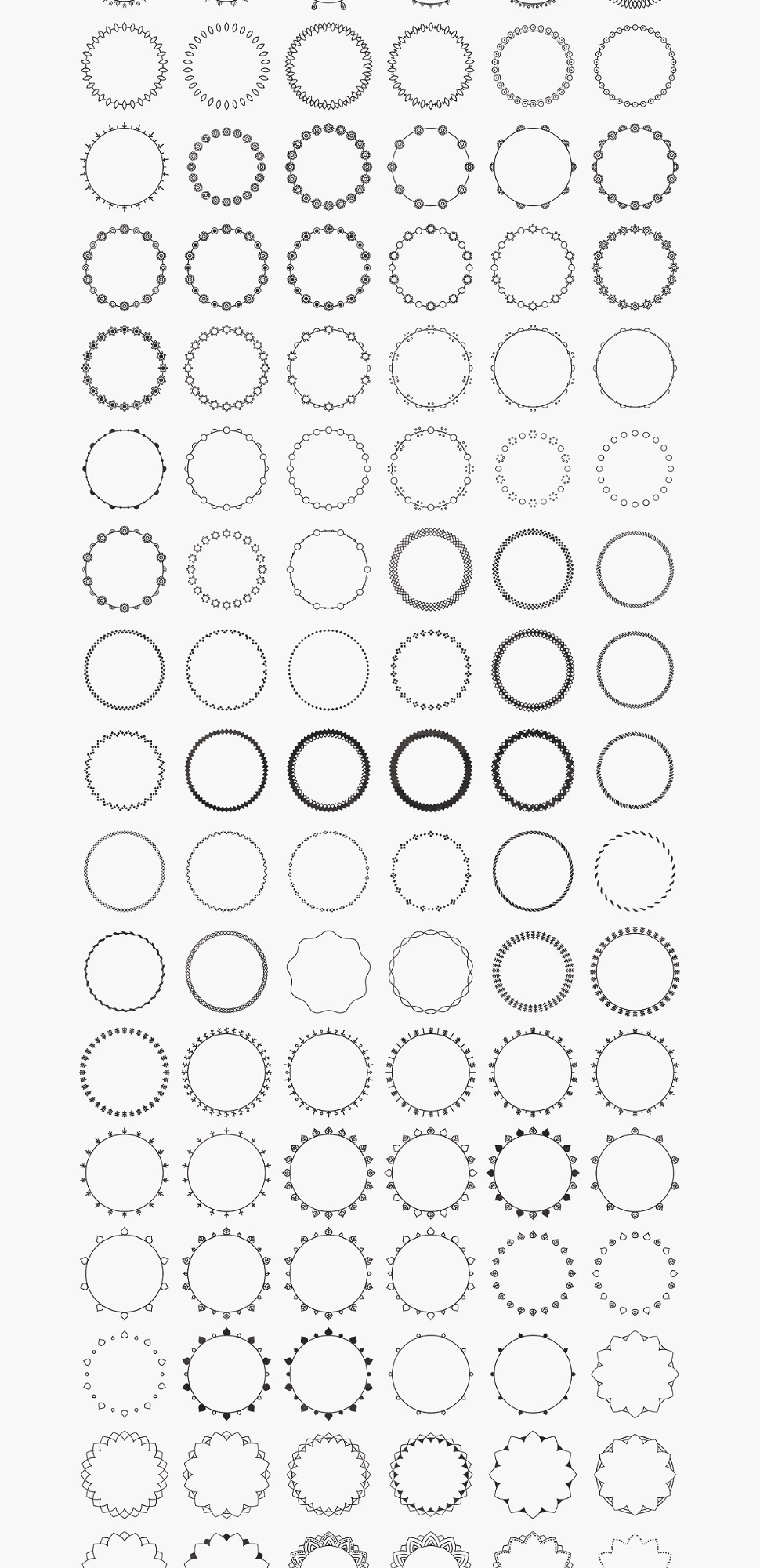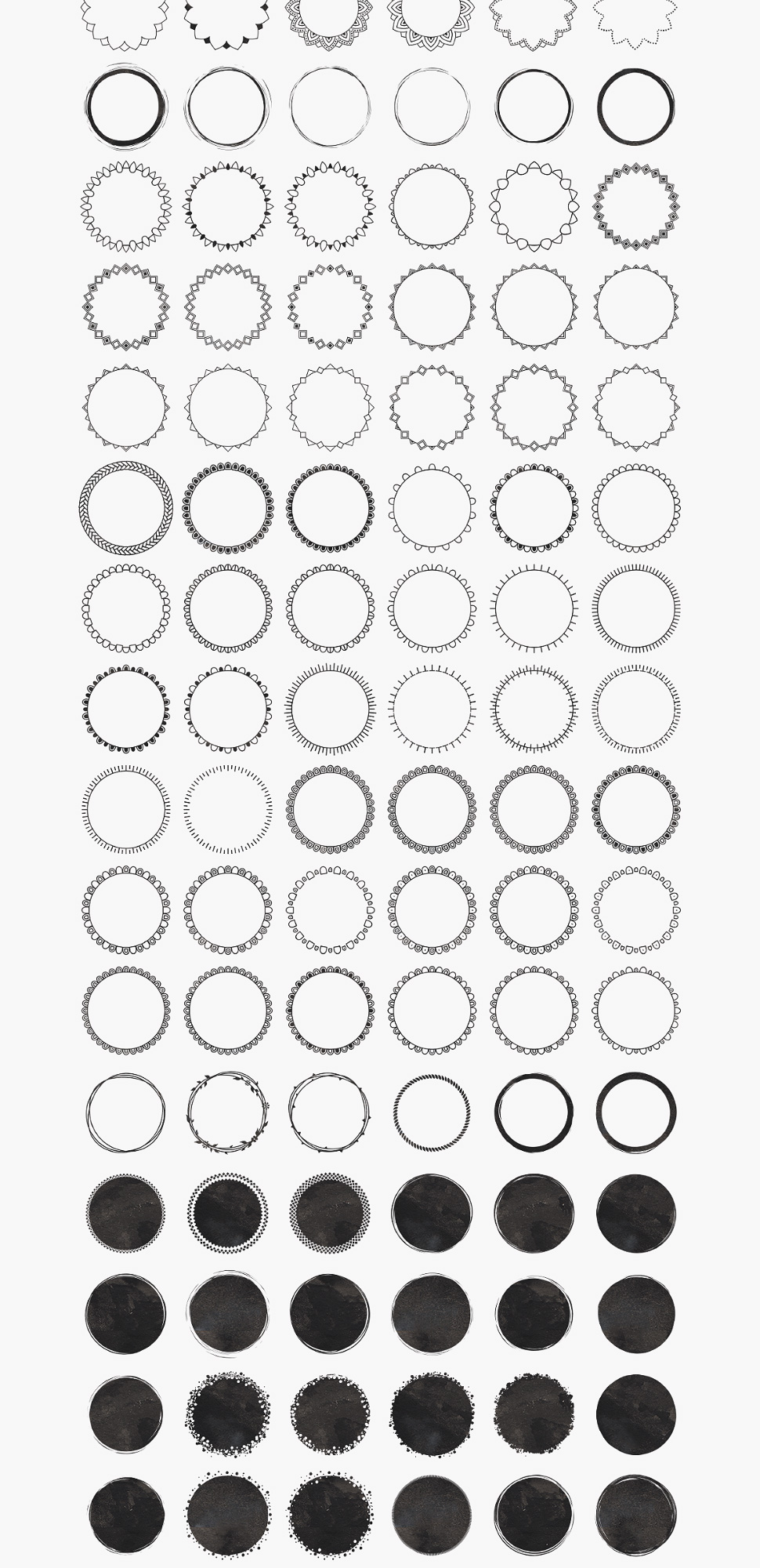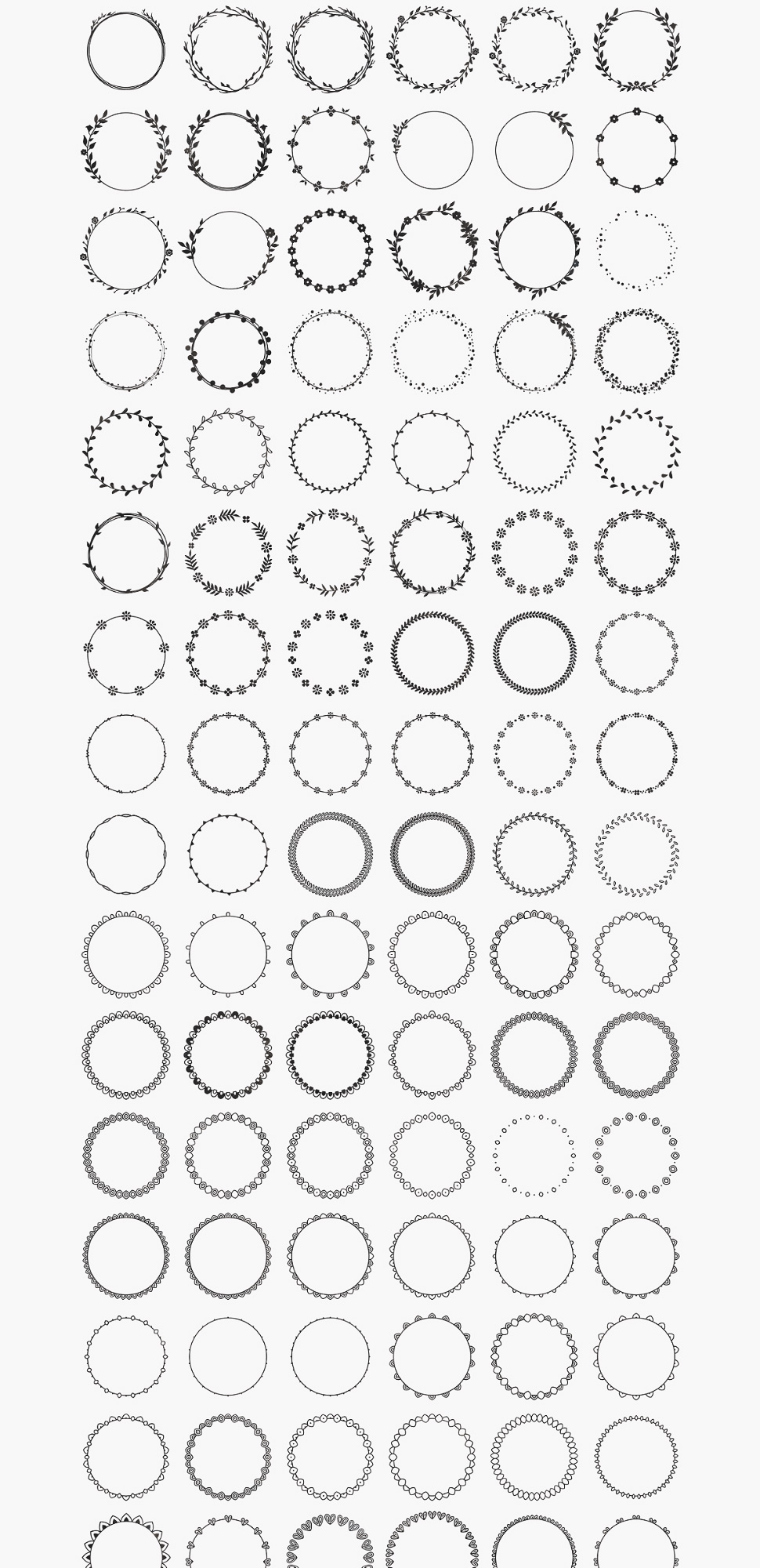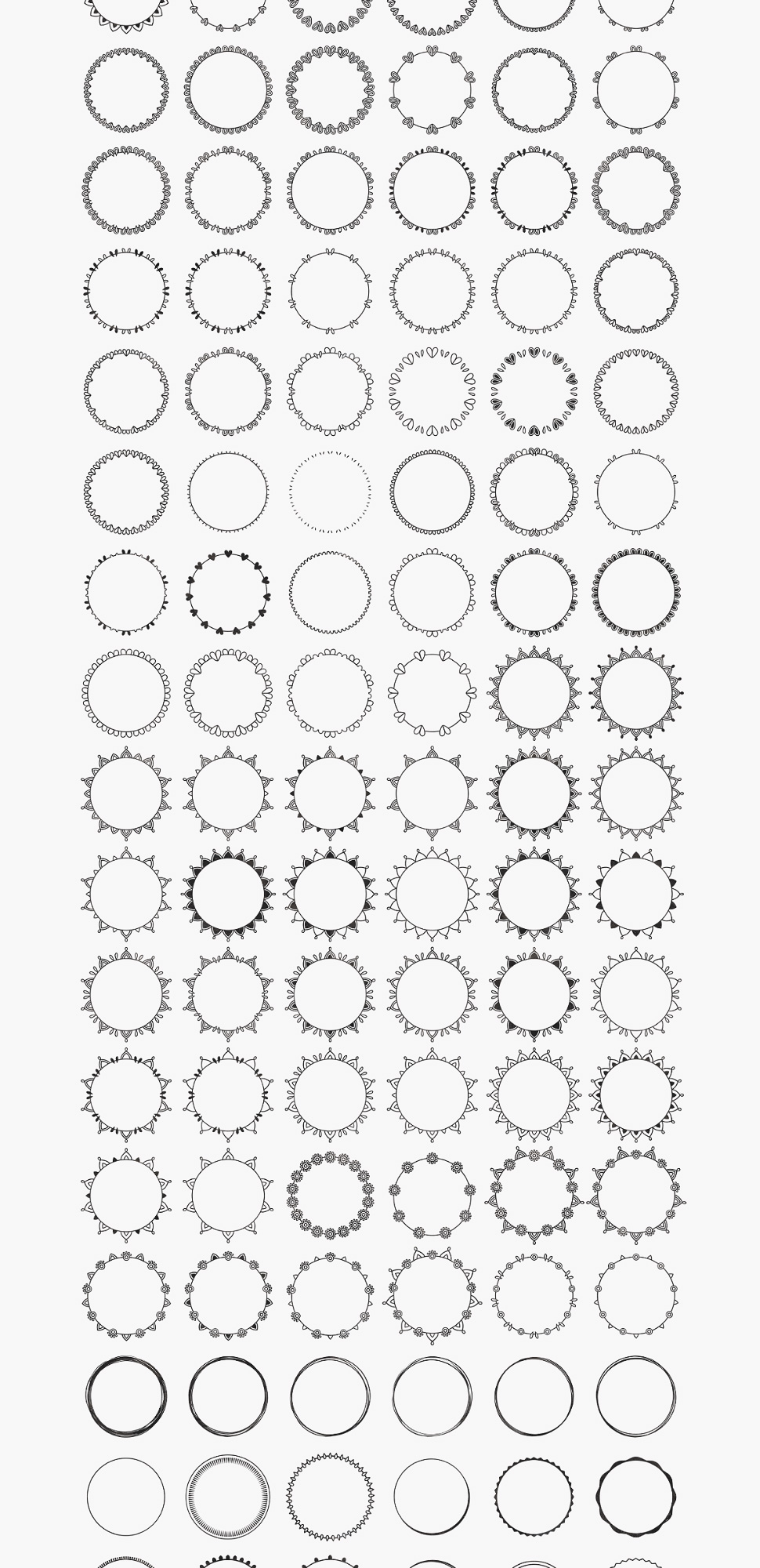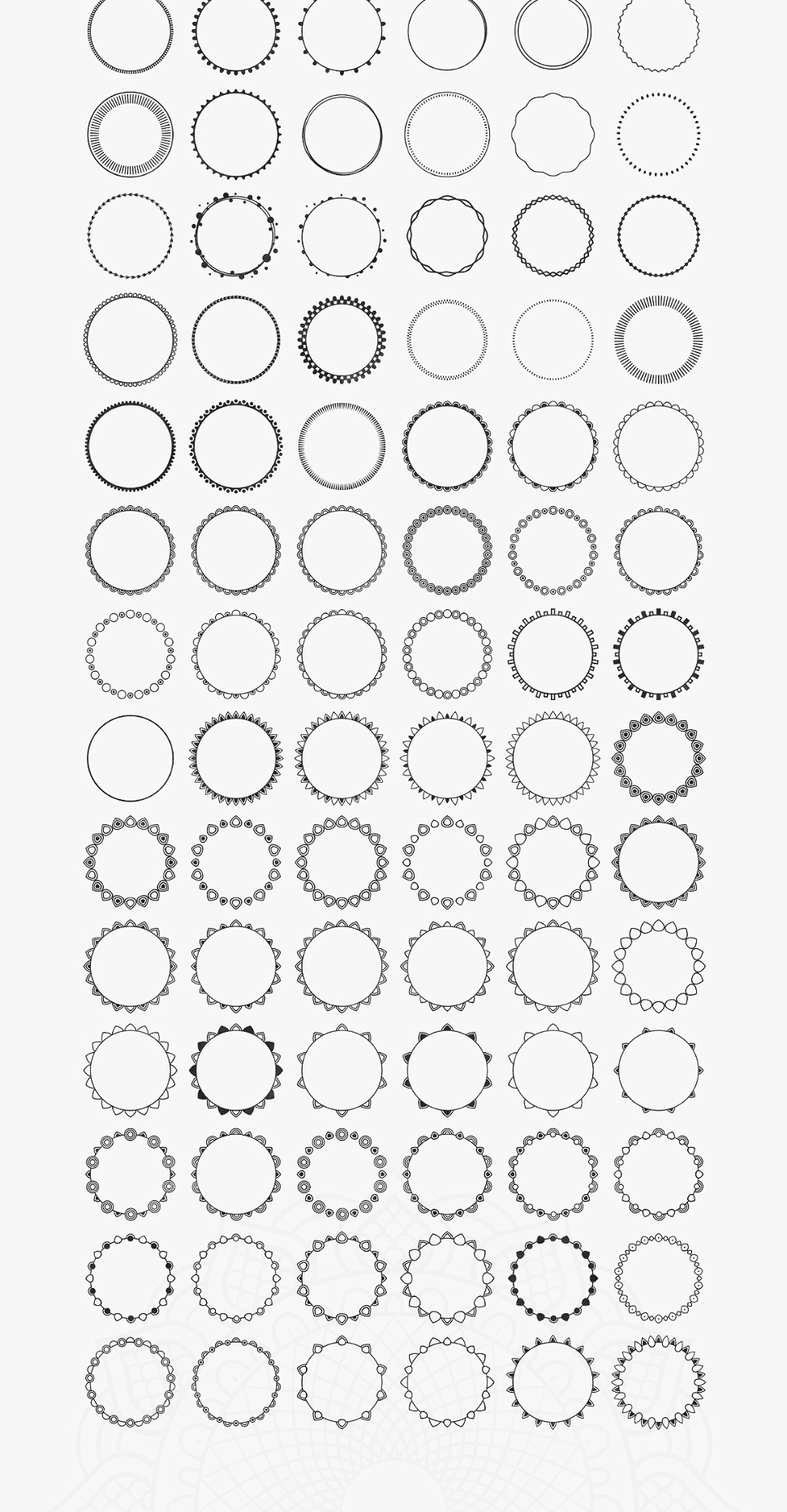 Text Logos or Font Combinations
Below are a series of font combinations (again, using free fonts - with links inside the package) that you can use to either create a simple or minimal text based logo or you can combine them with the other numerous elements included in the bundle. The logos in the previews at the top were created using these.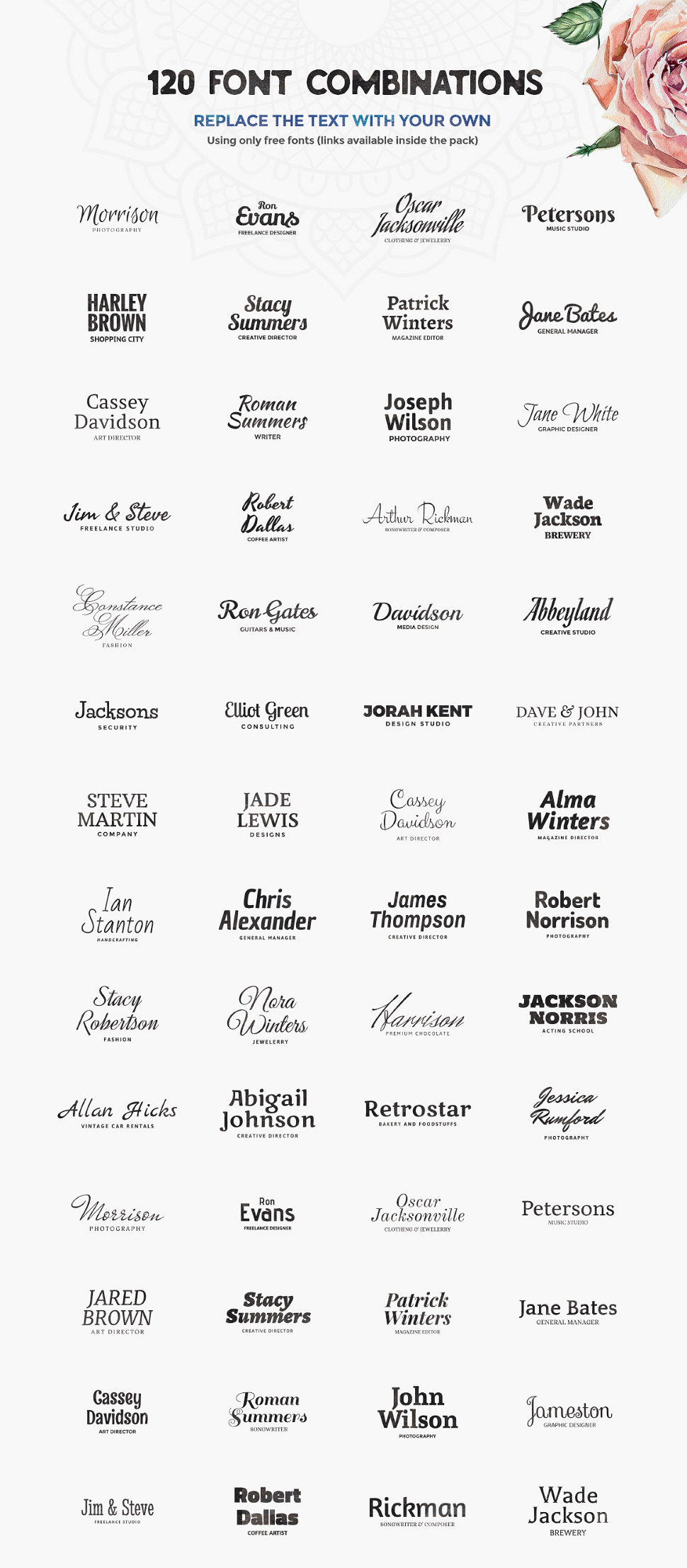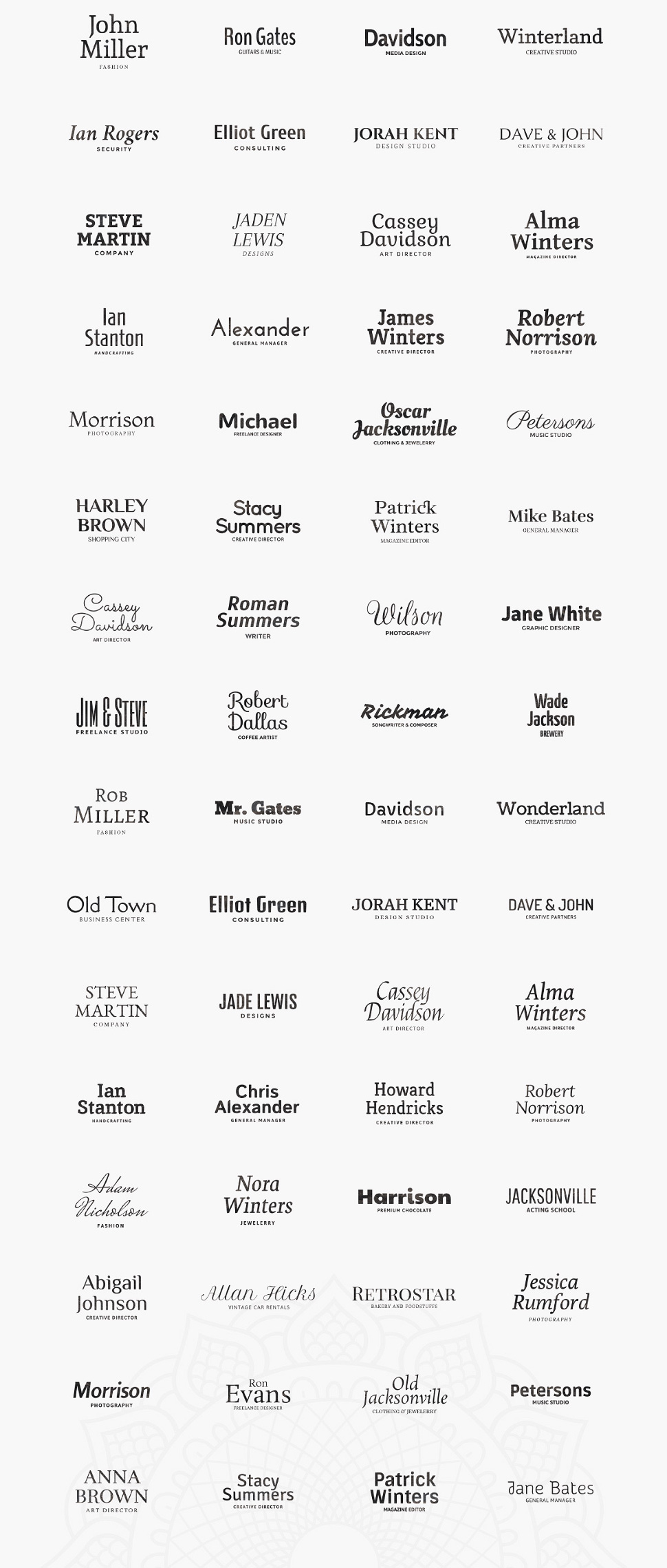 + The Handcrafted Logo Creator Update
The handcrafted logo creator is the latest addition to this already huge set of elements and it adds 120 new hand drawn circles, 32 premade logos and 32 font combinations. All the elements were carefully drawn with extra attention to detail! We hope you'll enjoy this update as much as we much as we did creating it!
+ 120 New Handcrafted Circles (Handcrafted Update)
Here we're presenting the core of this new update, which features 120 new circle elements. These circles were hand drawn so attention to detail is guaranteed. What distinguishes these from the rest of the elements is that you can see a natural hand-drawn line when zooming in despite their near perfect appearance from a distance.


+ 32 New Premade Logos (Handcrafted Update)
This set is still part of the handcrafted update and comes in addition to the premade logos listed above. If you don't want to go through the process of combining elements in order to create a new logo then we've got you covered: we also included a set of 32 unique premade logos that you can simply edit with your name or details. Just pick the design you like or suits you the most most, move it to a new document, edit the details and you have a new logo done in just a couple of seconds!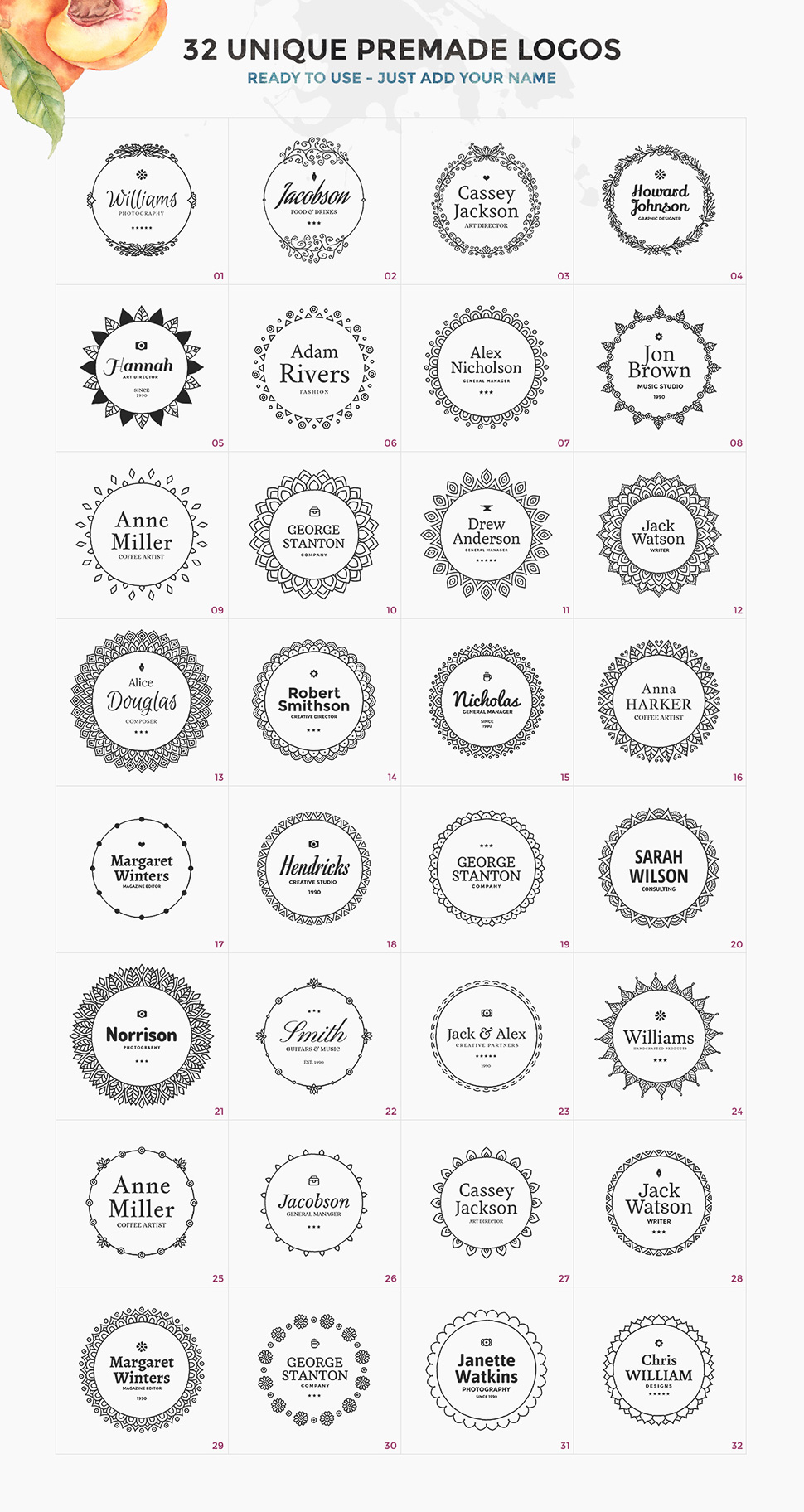 + 32 Font Combinations (Handcrafted Update)
If you, however, want to experiment on your own and create your custom design, then you can mix the circles with any of the font combinations below. Just make sure to install all the fonts (free fonts - links inside the package) and you're good to go! You can use the combinations included here or use them as a base if you'd like to get more creative and add elements of your own.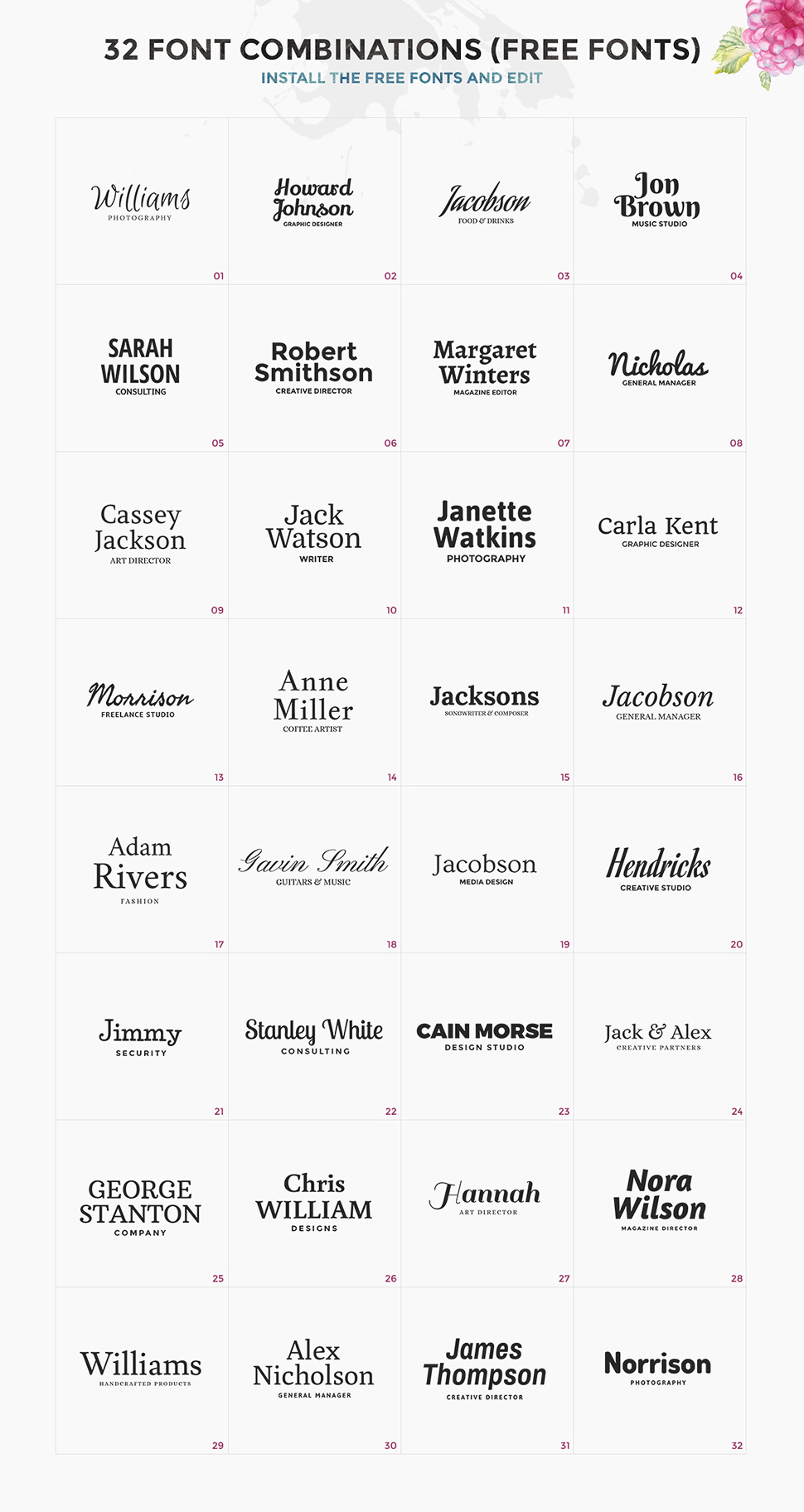 Lots Of Ribbons
We also included a collection of 112 Ribbons that feature different line weights. These are easy to combine with the circles that you saw above or with the badges featured below these. They are very easy to use and if you have some basic Photoshop or Illustrator skills then you can use them to create a new logo in seconds! AI & PSD.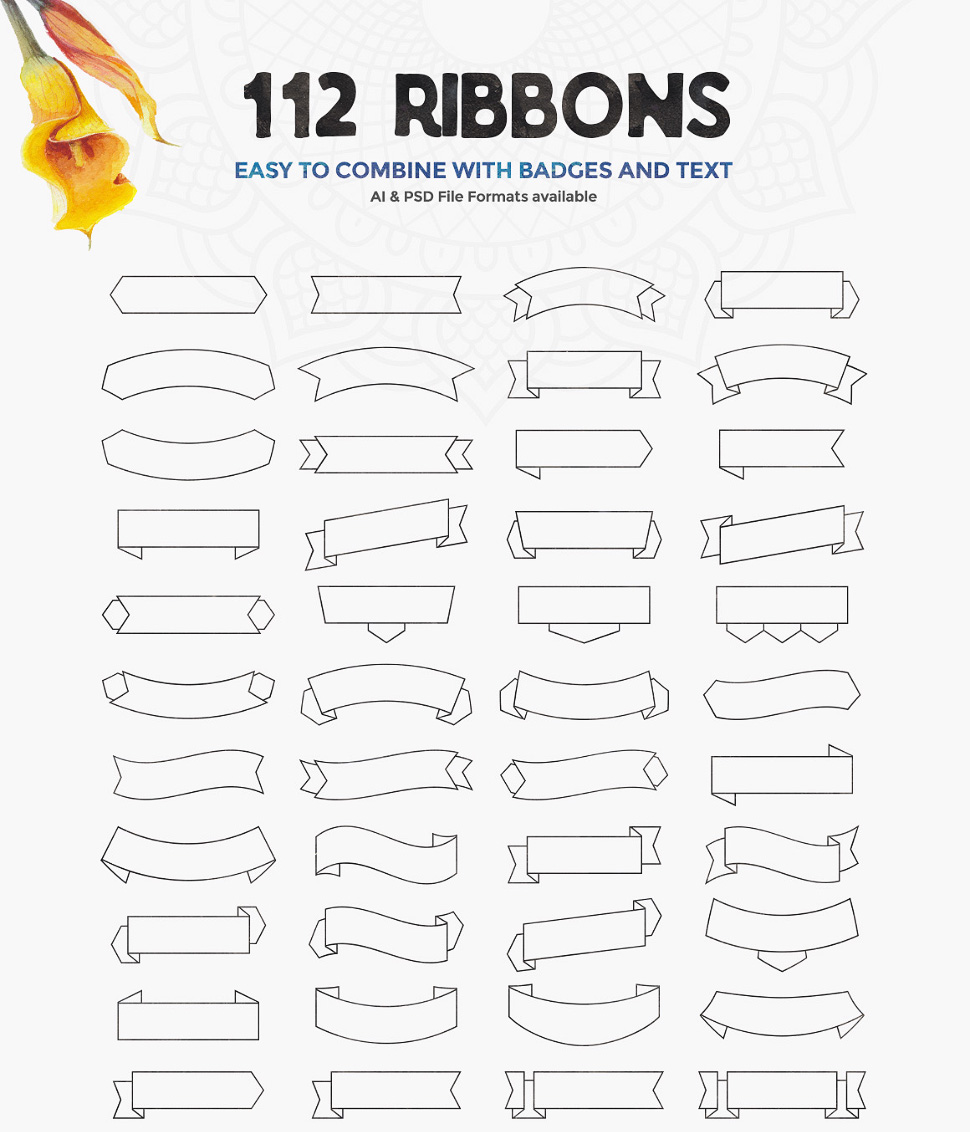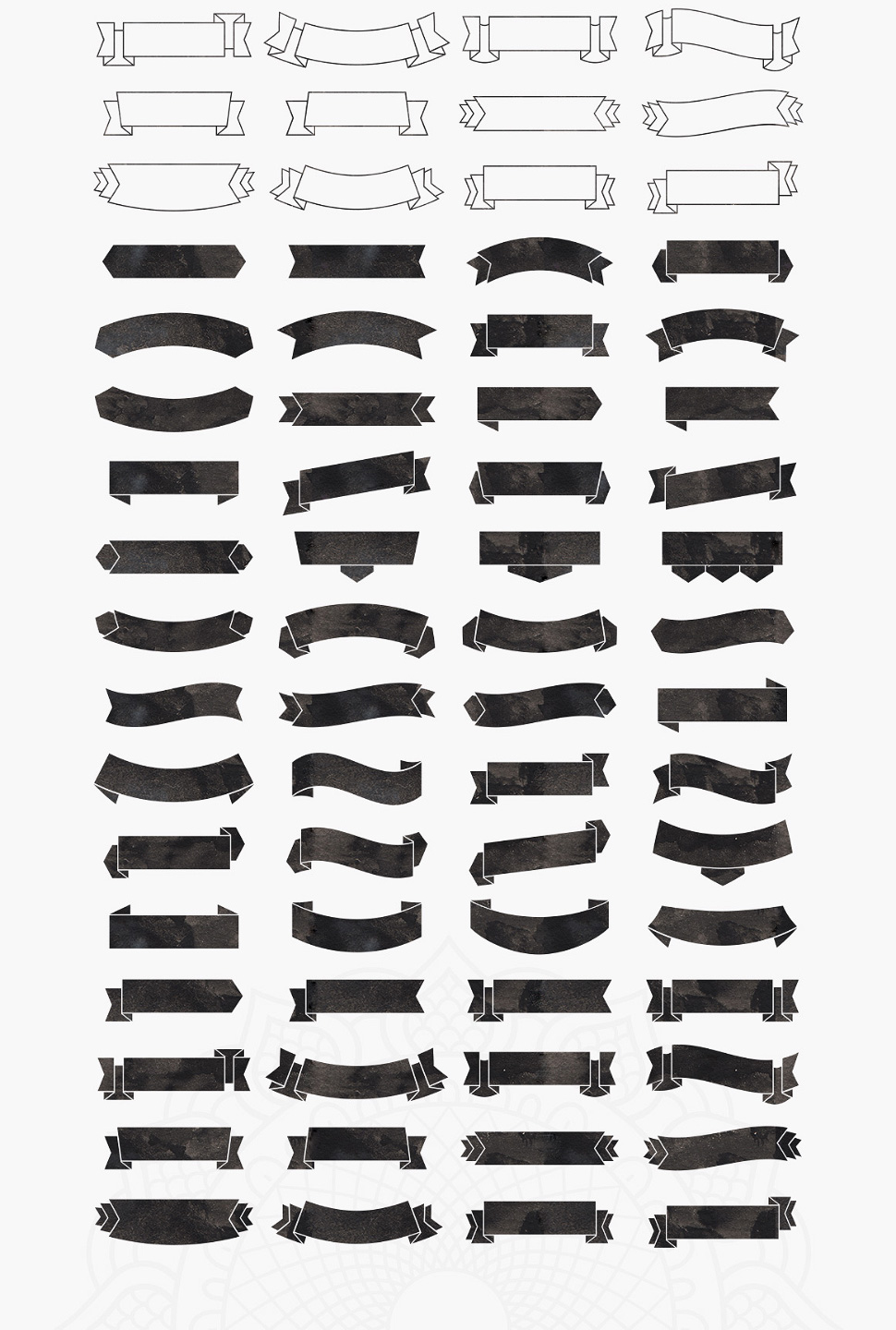 A Set of 60 Badges
To allow even more diversity and more creative freedom we also packed a set of 60 badges that work well with the ribbons and the font combinations featured above. Just drag and drop these along with the other chosen elements to a new file and combine them to complete your creation! AI & PSD formats available.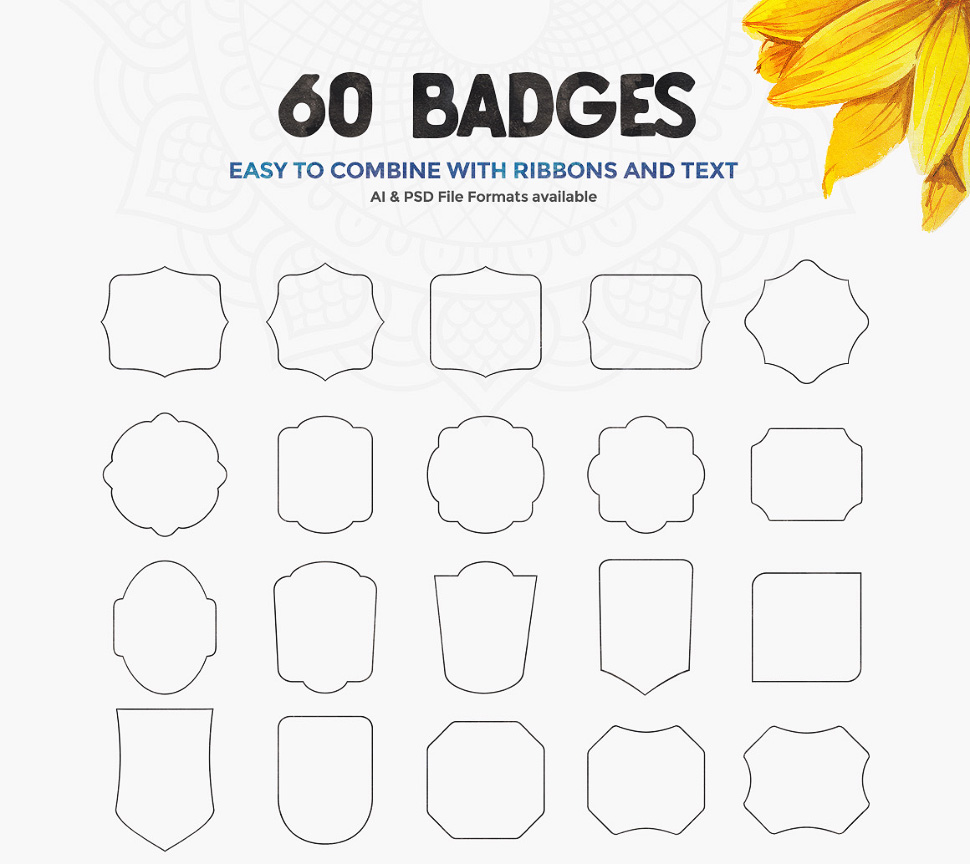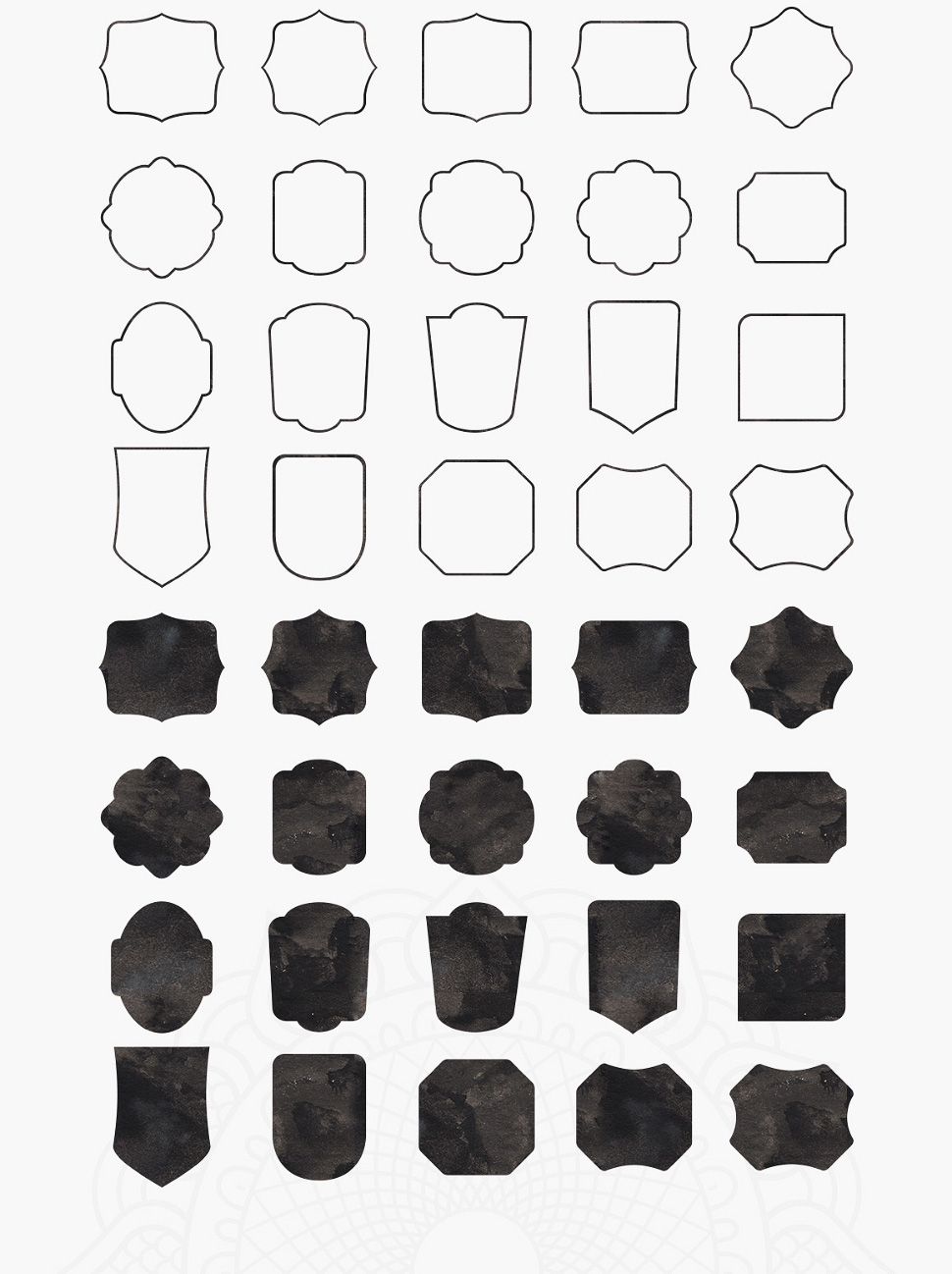 Foil Textures
We thought of everything so we included a set of golden and silver foil textures to really make your creations shine. With the help of these resources you can now create a perfect presentation for your new logo. Here's how it works: choose your favorite texture (these come in JPG format), paste it on a layer on top of the layer containing your logo, right click the texture layer and then choose "create clipping mask" - the logo will now have a shining texture applied to it!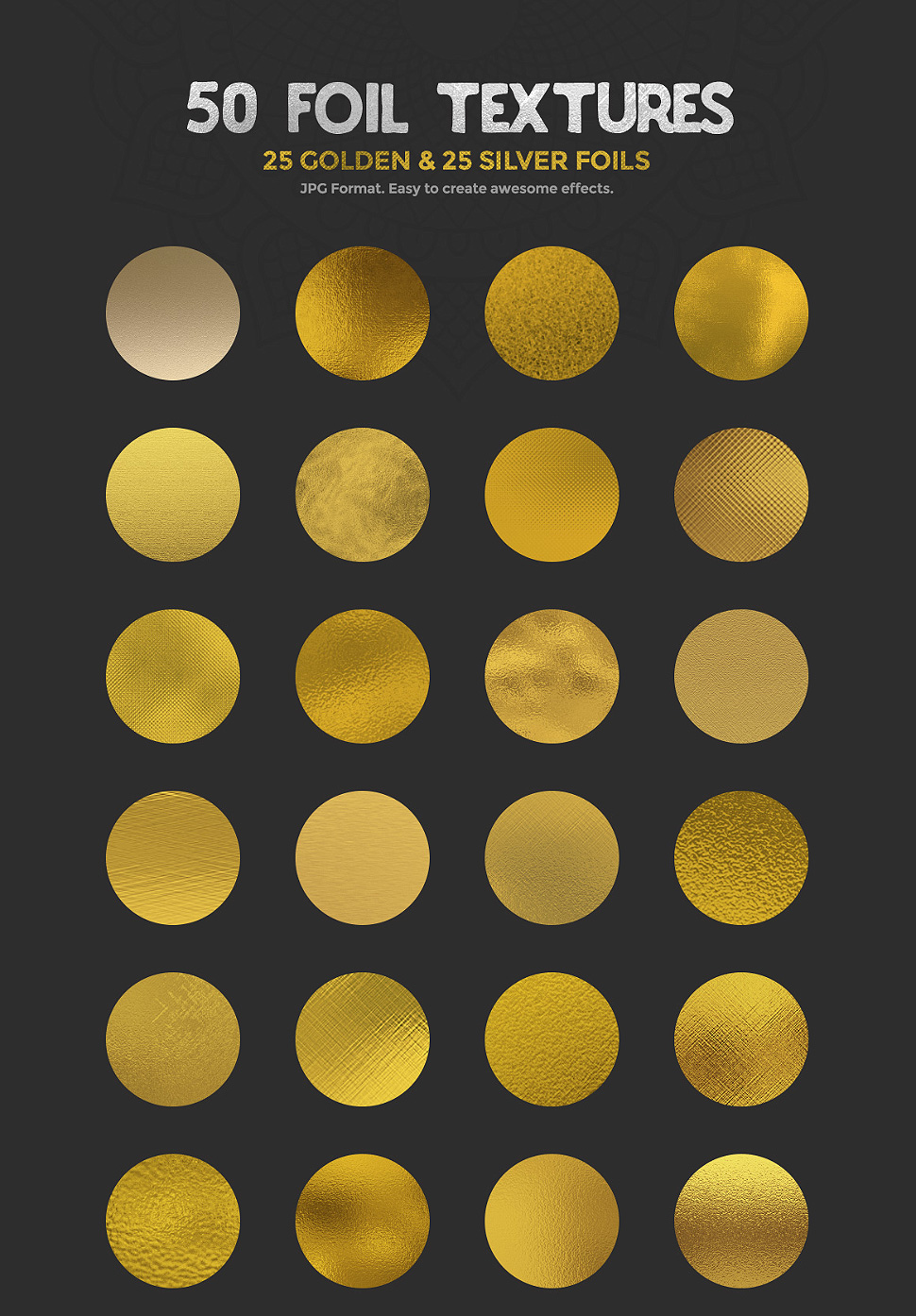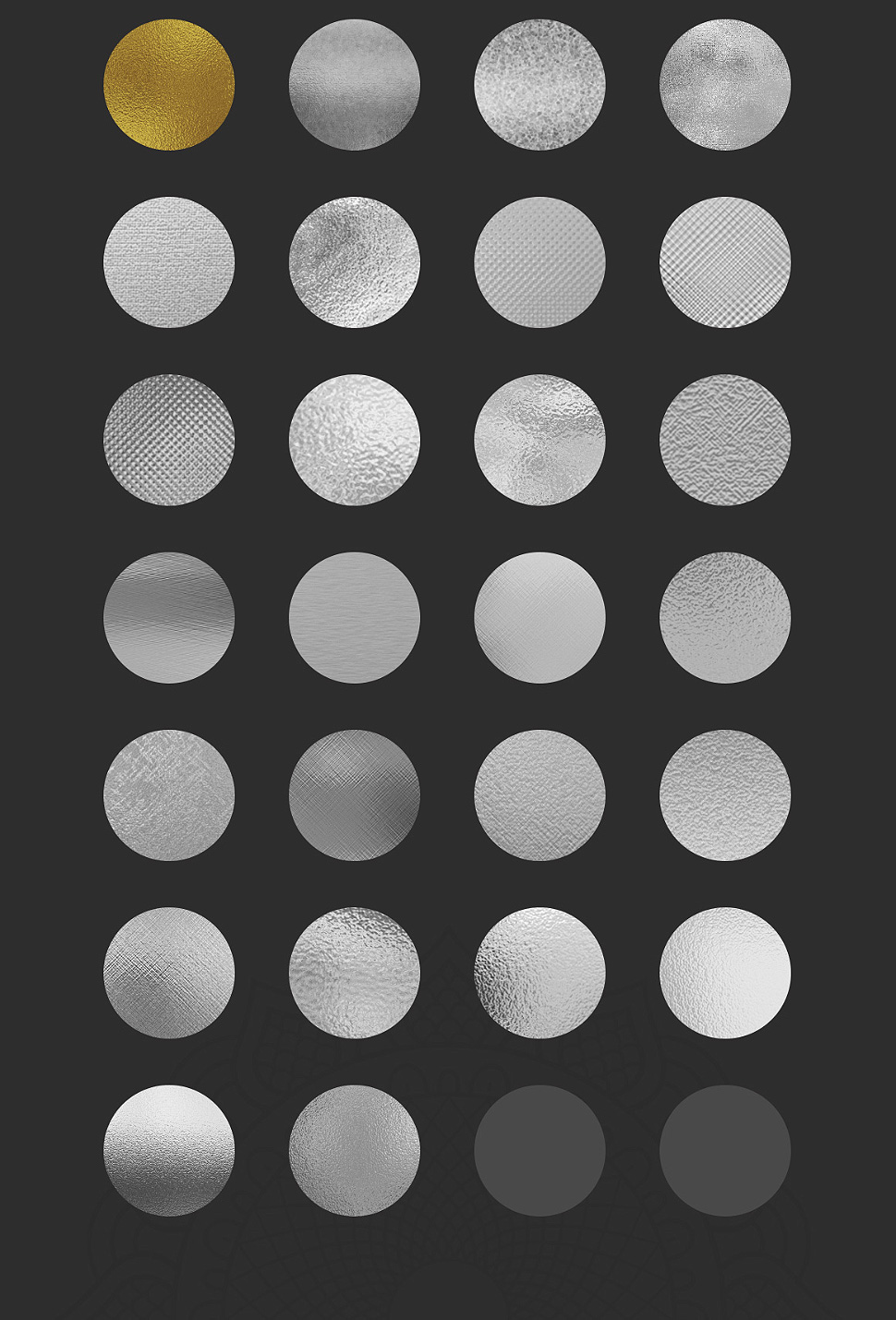 Bonus Textures
As a bonus we also included 2 more texture packs: One features 20 Halftone textures (PSD & JPG Format) and the other one contains 40 Vector textures (AI, PSD) that can be upscaled as much as you want without seeing any quality loss. All these are great to be used as backgrounds but they also look good on text, logos and all kinds of vector shapes. We put a lot of effort into this bundle to bring you the best possible quality and we hope you really enjoy using it!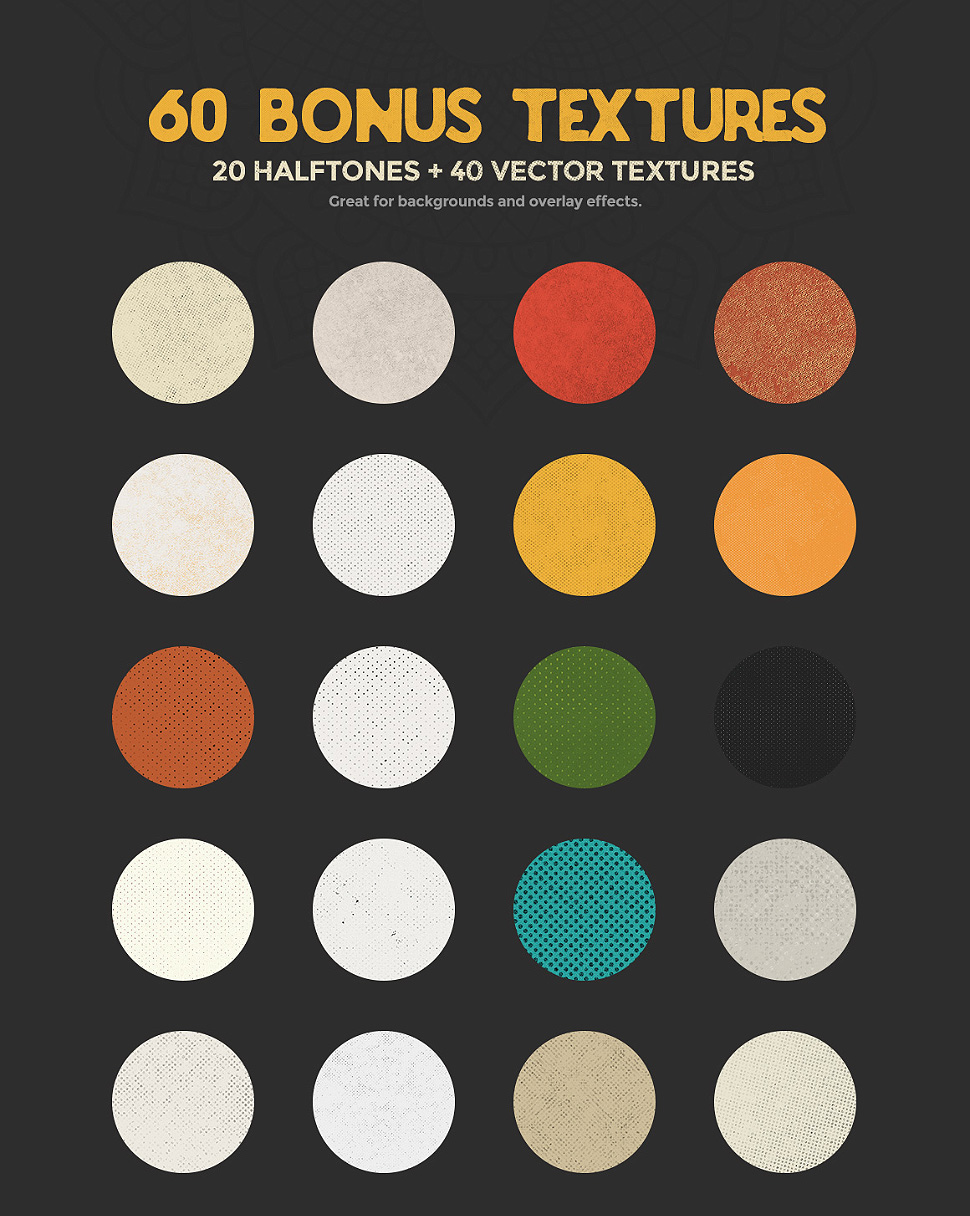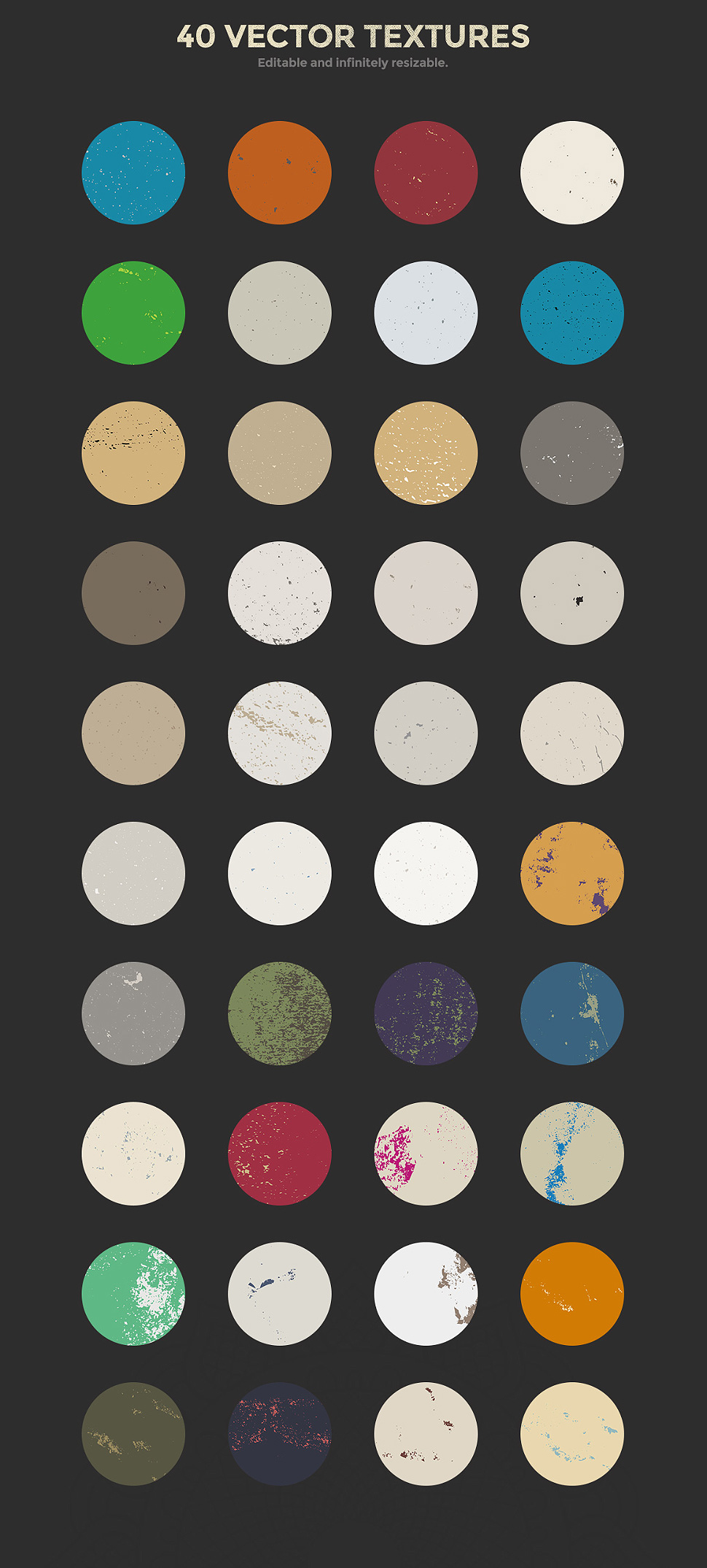 Commercial License
And one more thing. If you weren't already convinced, this whole pack comes with a full commercial license that allows you great creative freedom! Our license terms are easy to understand but if you have any questions then feel free to contact us via our contact page. To read the full terms go to our
license page
.

OVERVIEW
Here's a final look at the cover image that shows a general view of some of the elements and features a summary of what you get inside the pack. 830 Elements, 100 Premade Logos & 110 Textures.